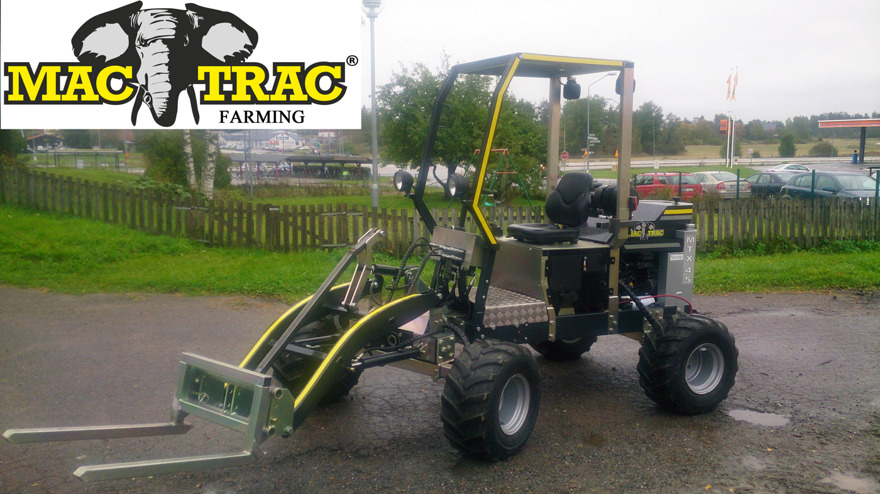 -Versatile -user friendly -Reliable
MacTrac is a tractor that gives users many new possibilities. Anyone can drive a MacTrac and do a job with good results. MacTrac is reliable thanks to its simple drive system. There is a wide range of work that can be done with a MacTrac and its unique program of equipment. Working with MacTrac is a true pleasure.
MacTrac is fantastic in mechanical weed processing
Thanks to the light weight of the MacTrac you can run it in the field even if it had just been raining. From the driver's seat you have a good view of the crop, which means that you can steer with great precision, and remove weeds near the plants. The tools we use have many adjustments that enables one to get close to the plants without running over or damaging them. We recommend that you run through your crops every 7-8 days and continuously work the soil when the weeds are small. Since it is easy work with the MacTrac, it is better to run the soil one more time than to wait for the weeds to grow big.
Row hacking with parallelograms 1- 8 rows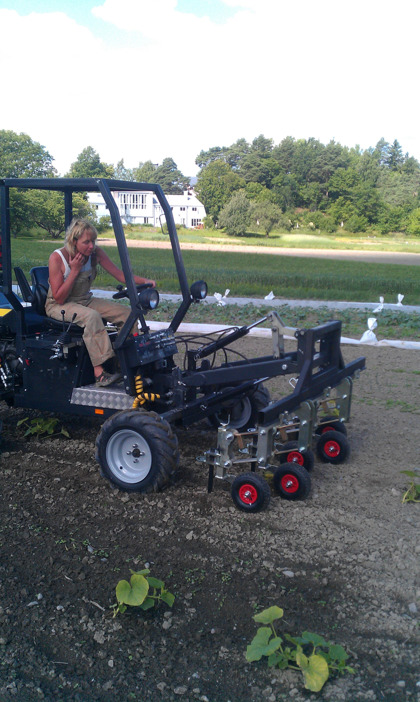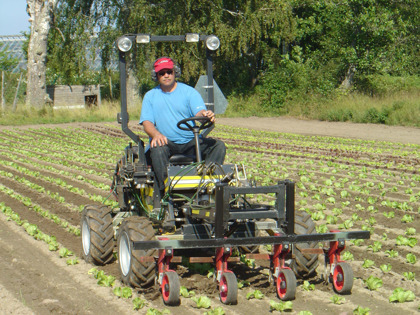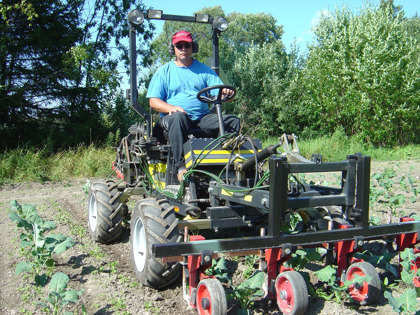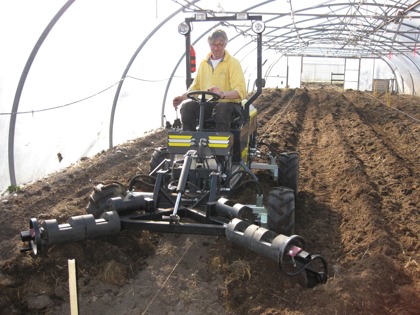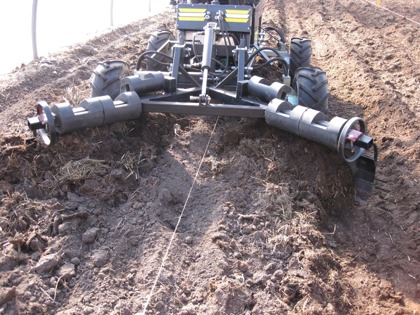 With our bed maker you can work in the field or as in this case inside the greenhouse. Also available with a plate that picks up the soil.
Row hacking with a finger hack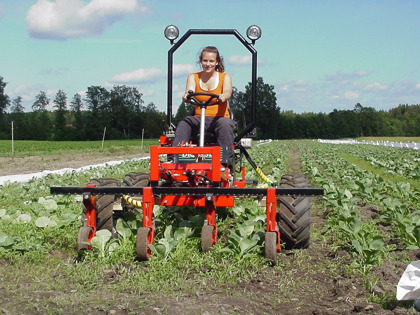 Row chopping with a stick in grain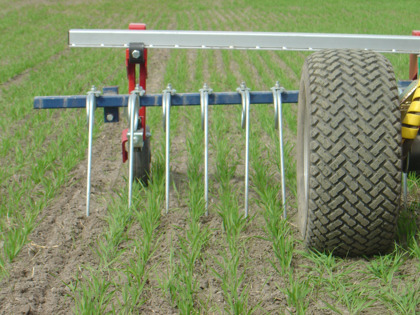 Dive cutter for deeper machining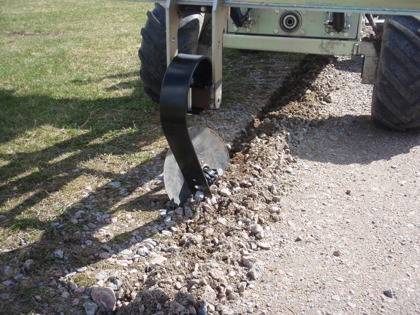 You can use this cutter to crop crops or as weed processing tools. The cutter is mounted on a strong steel spring which is then put on to the toolbar.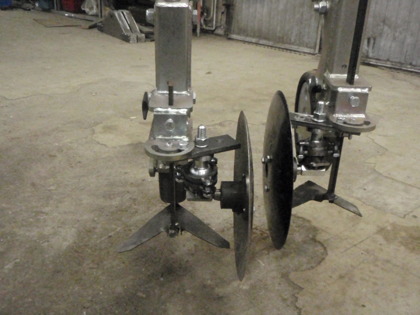 The cut is in the paralellogram that is mounted on the toolbar. You can put a shelter at the cutting insert to protect the plant. The plate can be angled to also hold or lay down soil. Opportunities are many!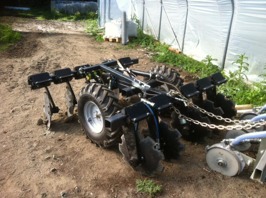 Our DWT has drive on its wheels so it relieves Mactrac when all drives work parallel from tractor to gear.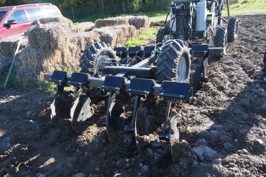 When driving on all 6 wheels, the risk of slip and ground packing is minimized.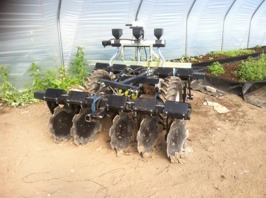 You can use the DWT together with the plate harrow, pin harrow and the power supply unit.
MacTrac plow, 1 to 2 cutters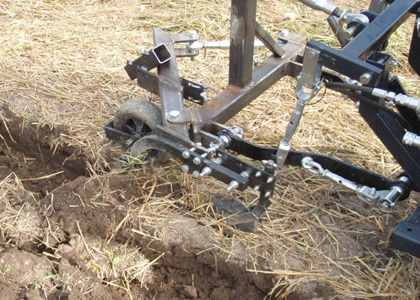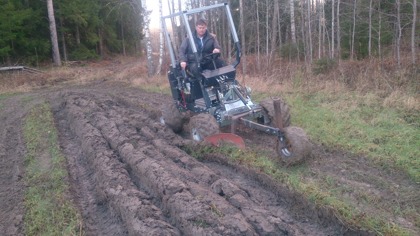 Sowing unit for all seedlings, 1-8 rows.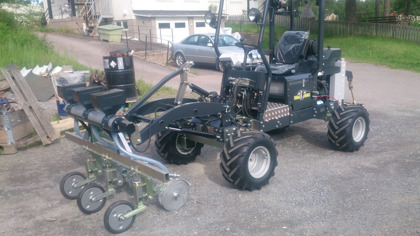 Digging soil, no problem.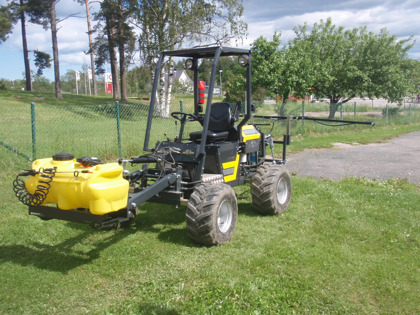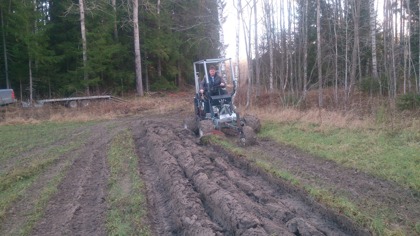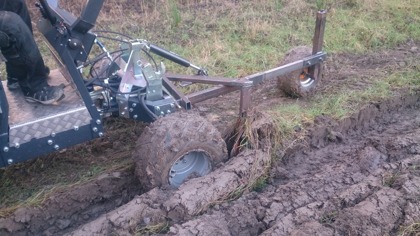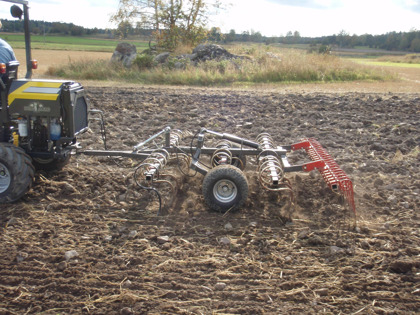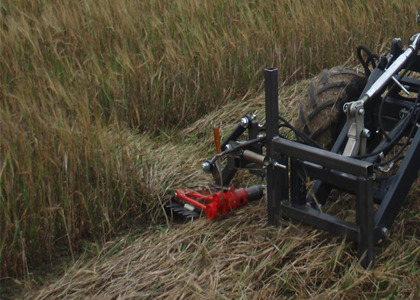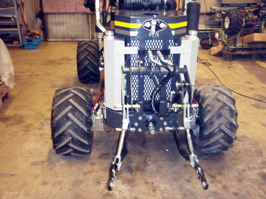 Hydraulic arms rear, lift 450 kg.
Optional hydraulic power take-off.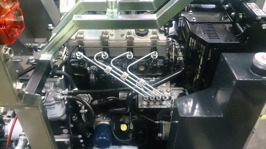 Perkins 4-cylinder diesel engine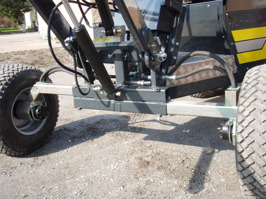 Easy to change track width 120 - 180 cm.
Different options of wheels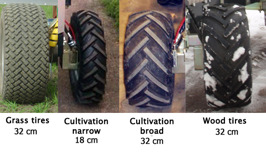 Depending on whether you drive in farming, forest or on a golf course, a little different deck is required. We have options.
The smooth and powerful mini-chopper, MacTrac with woodcarriage.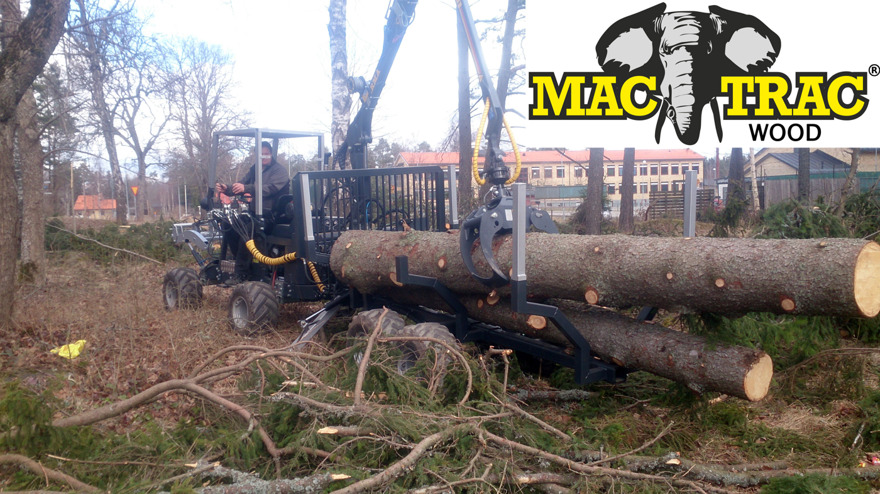 MacTrac with timber truck. The trolley is powered by all four wheels, which gives an incredible ability to ride. With this smooth yard you can easily reach the forest or in difficult places without falling a lot of unnecessary trees. Because MacTrac is so light it does not hurt the ground, or makes a lot of deep grooves like a larger machine or tractor easily do.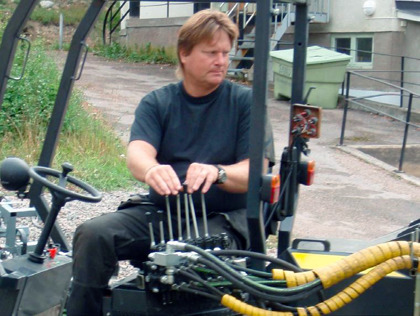 Just slide to your left and get a good view of loading and unloading with the crane.
Over load .. not good but it works!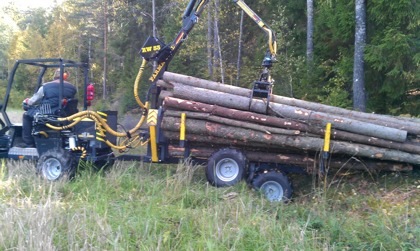 Leaves almost no traces afterwards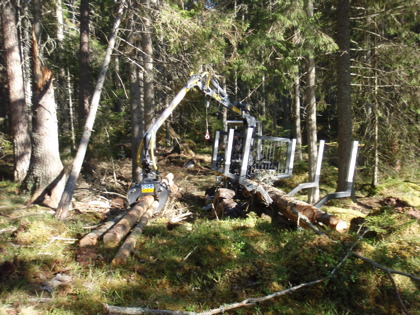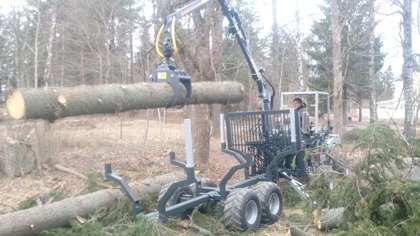 You can handle large heavy logs smoothly. The trolley loads up to 5 cubic timber.
Moves smoothly between the trees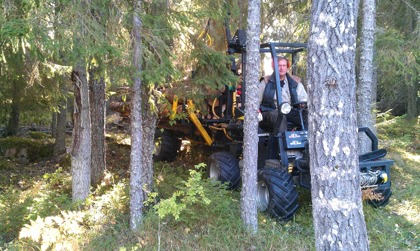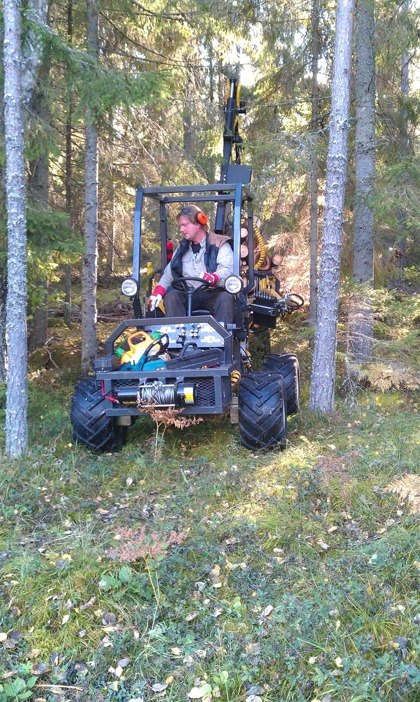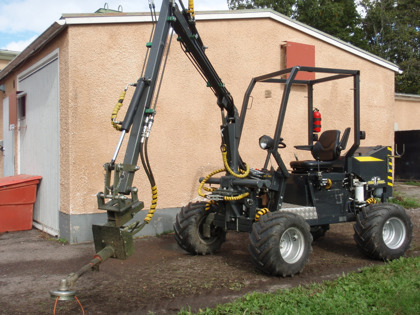 Flexible front mounted crane for sludge removal, cutting of grass in slopes, under fences or in other hard-to-reach areas.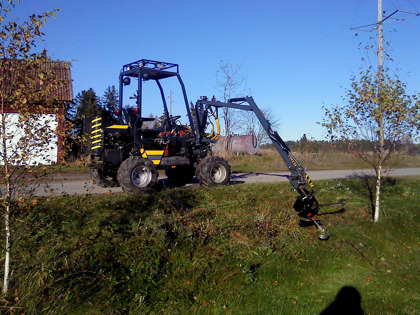 Cleansing of small sludge and grass in dikes slender.
Grass cutting aggregate for MacTrac
We manufacture a rotor cutting unit.
The cutting width is flexible up to 175 cm. Cut height adjustments are made hydraulically from the driver's seat. Simple and flexible!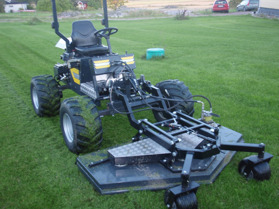 We have both football fields and golf courses as customers. For this type of work a smoother tire is used on the MacTrac.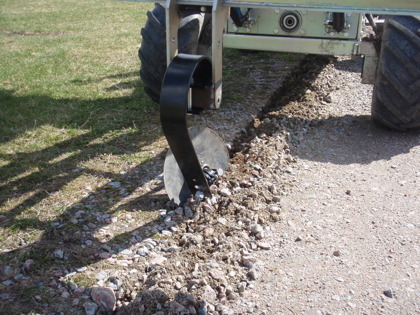 Cut edge of the gravel path with a cutter sitting on a strong steel spring.
Plan out gravel with scoop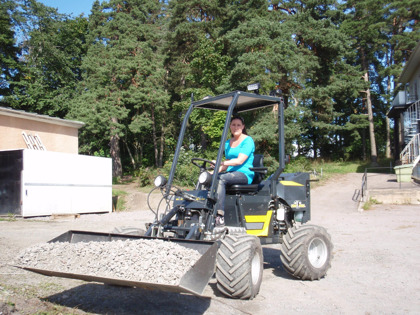 You can easily plan a gravel space with the bucket and get it pretty flat depending on how careful you are.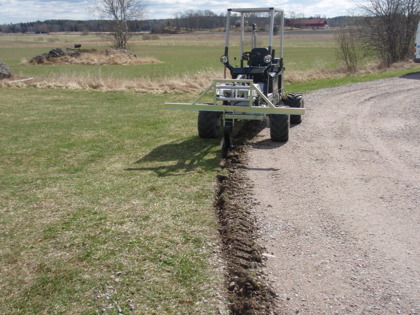 With the excellent view from the seat of MacTrac, you can drive with great precision. And because the machine is so light, it reduces the risk of making marks on the ground.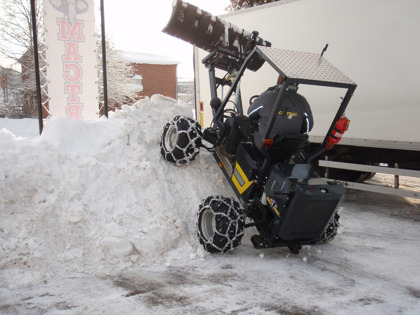 A MacTrac with snow plow is like a small tank, it emerges everywhere! A power pack that easily shovels large amounts of snow on hard-to-reach places. Perfect for clearing parkings, walking and bike roads.
Climb on the terrace, -chopped wood delivery to the door!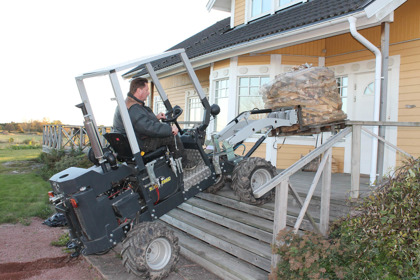 Movement of various goods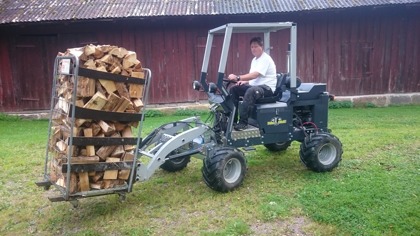 Engine 45 hp
4-cylinder diesel engine (Perkins)
4 × 4 Hydrostatic Driveing (8 × 8 MacTrac Wood)
High and low gear
Outlet for driving the rear trolley
Extra hydraulic outlet, for example lawn mower
Hydraulic oil, volume 40 l
Fuel tank, volume, 30 l
Weight diesel version, 930 kg
Weight gasoline version, 920 kg
Lifting capacity 650 kg
Loader with quick attachment
A lever lever for loaders
Tool attachment with quick attachment
Load capacity approx. 5 cubic meter
4 tires 320 / 60-12
Removable bogie
Crane Farma 3.2
Max lift 300 kg
Max range 3.2 m
Winch radio controlled
Max traction winch 400 kg
Optional equipment MacTrac
Hydraulic power take-off rear
Different options of tires, forest tires, wide grass tires
Elevated clearance
Wider range
Several hydraulic pumps
Hobs
Working LED
Hydraulic arms rear
Outlet for driving the rear trolley
Why should I choose a MacTrac?
MacTrac is one of the most easy-to-use mini tractors on the market
Manufactured and constructed in Sweden
The widest and verry unique accessory list that no other manufacturer of mini tractors can offer
4 × 4 or 8 × 8 drive on all wheels to reach all types of terrain and ground conditions
MacTrac's unique structure makes it easy to access all service points, minimizing downtime at workshops
Secure delivery with good payment terms
Training of dealers, close contacts with the factory and sales department!
MacTrac Special.
-A tailor-made machine according to your own special wishes!
Special sprayer for weed control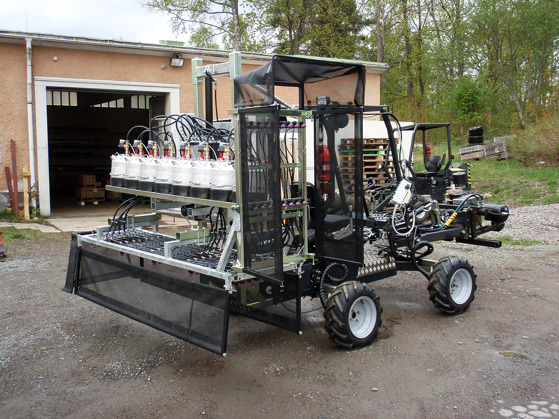 A seed drill for cultivation attempts.
Attended the Wheat Master 2014.
A MacTrac with syringe to spray 8 different herbicides at the same time.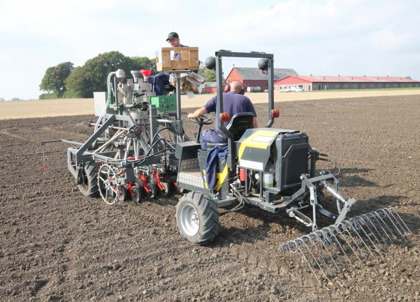 We have developed this machine that, with millimeter precision, can place wheat grain one at the right depth etc, for the best possible return. Nothing is left to chance.
Competition's management is watching the sowing!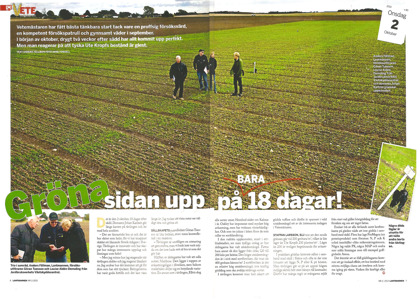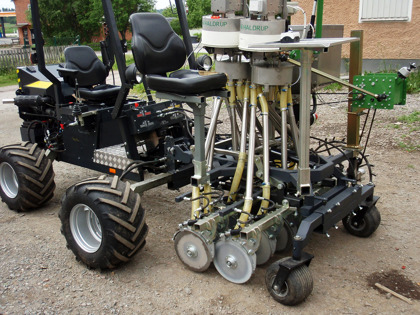 There are 2 people who supervise the saw process for everything to flow according to plan.
The competition was announced by The Swedish newspaper Lantmannen and the aim was to raise the status and knowledge of grain cultivation.
GOAL - How do we achieve higher crop than 15.63 tonnes of wheat / hectar?
WINNER - Largest harvest wins.
Read more about the results through this link:
http://194.47.52.113/janlars/partnerskapAlnarp/ekonf/20150127/vo/karlzenJohan.pdf